Santé leverages on the expertise of its top leaders. Together, they bring in more than 50 years of combined marketing experience and are a product of diverse backgrounds which include management, direct selling, product development, and organic farming gained in the Philippines and internationally.
Joey Marcelo
Chief Executive Officer
Joey is a visionary leader and veteran marketing professional with a vast knowledge of direct selling, compensation and systems development, business management, and systems analysis and design. He has an industrial management engineering degree and a Masters in Business Administration (MBA) from De La Salle University (DLSU). Joey began his career in direct selling in 2000.
Today, he is one of the most sought-after speakers and renowned leaders in direct selling and network marketing in the Philippines and abroad. From 2018 to 2019, Joey was a speaker at the prestigious annual Mastermind Events held in the USA. He was also recognized as Entrepreneur of the Year at the 2019 Asia CEO Awards while Santé was an awardee as SME Company of the Year.
Minerva Carag
Chief Product Officer
Minerva or "Minette" Carag is a registered nurse and trusted project management consultant, skilled in drawing up financial plans, marketing techniques, organizational structure design, and product development strategies. She concurrently serves as Managing Director of Santé Health and Fitness. Minette is a certified John Maxwell speaker, coach, and trainer with 20 years of experience in sales, operations, and network marketing. She graduated magna cum laude from the Philippine Christian University and worked in critical care during the early part of her career.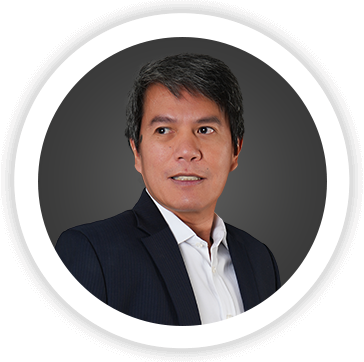 Eric Maranan
Chief Financial Officer
Eric, a Certified Public Accountant, is respected for his business and marketing achievements in the Philippines. As a marketing professional, he is among the country's top 20 revenue earners. Eric is an accounting graduate of the University of Santo Tomas.
Paul Caluag
Managing Director, Philippine Operations
Paul is a goal-oriented business administrator, and a multi-awarded networker with more than 20 years of experience in the network marketing and direct selling industries. He is the former vice-president of the third largest valuation company in the Philippines and a previous president of Junior Chamber of Makati (Makati Jaycees). Paul has a Business Administration degree from the Philippine School of Business Administration and an economics degree.
Peter Hope
Managing Director,
Sante New Zealand Limited
Peter brings his extensive knowledge of organic farming to our New Zealand office. He holds a Bachelor of Agricultural Commerce degree from Lincoln University and is an authority in dairy, mixed sheep and cropping farming. Prior to taking on the Managing Director post, Peter assumed several management roles which included the General Manager position at Claridges Organic, one of New Zealand's oldest organic-focused export companies. He also has a decades' worth of experience in the Australasian minerals industry and possesses a solid track record in developing, marketing, and supporting Management Information Systems (MIS) and manufacturing systems.