Santé leverages on the expertise of its top leaders. Together, they bring in more than 50 years of combined marketing experience and are a product of diverse backgrounds which include management, direct selling, product development, and organic farming gained in the Philippines and internationally.
Joey Marcelo
Chief Executive Officer
Joey is a visionary and a veteran marketing professional with more than two decades of sales and marketing experience. He holds a Masters Degree in Business Administration and a Bachelor's Degree in Industrial Management Engineering from De La Salle University. He is a passionate triathlete and a multiple Ironman finisher. He is a God-fearing father of three boys (Christian, Gabriel, and Johan) and a husband to Karen. He is the CEO of Sante International.
Today, he is one of the most sought-after speakers and renowned leaders in direct selling and network marketing in the Philippines and abroad. From 2018 to 2019, Joey was a speaker at the prestigious annual Mastermind events held in the USA. He was also recognized as Entrepreneur of the Year in the Circle of Excellence at the 2019 Asia CEO Awards, while Sante was named SME Company of the Year. He was awarded Entrepreneur of the Year, while Sante was awarded Circle of Excellence for its Executive Leadership Team at the Asia CEO Awards 2023.
Minerva Carag
Board Member & Co-Founder
Minerva Carag presently serves as one of the founders and directors of the company. She is a registered nurse by profession. Her portfolio includes experience in project management, advancing sales teams, and crafting marketing strategies. She has had about two decades of experience in product research and development that contributed to the growth of the company's flagship product, Sante Barley.
Minette is a Maxwell Leadership Certified Team (MLCT) speaker, coach, and trainer with 20 years of experience in sales, operations, and network marketing. She graduated magna cum laude from the Philippine Christian University and worked in critical care during the early part of her career. Her passion is to help people find their purpose and she delights in seeing transformation happen to those she is able to connect with.
She has also authored a book entitled "When Troubles Trouble You: Finding Answers in the Midst of Pain" which is a collection of lessons learned from personal tragedies. The book was released during the height of the pandemic to help people navigate through troubled seasons of life.
She strives to work with the following values in mind, as quoted:
• To honor God in all I do.
• To develop people.
• To pursue excellence.
• To grow profitably.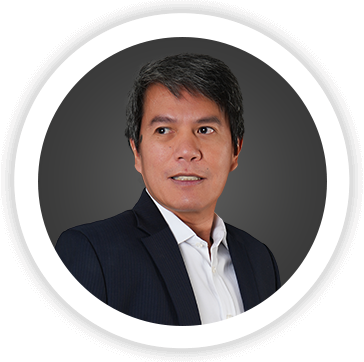 Eric Maranan
Board Member & Co-Founder
Eric,a seasoned business entrepreneur and an outstanding marketing professional. Having more than 20 years of experience in the field of Network Marketing and Financial Operations, he has Co-founded and managed various companies, among which include The Big League Enterprise Inc., Sante International Inc., and Young Minds Learning Center.
A Certified Public Accountant and holds a Bachelor of Science degree, major in Accountancy from the University of Santo Tomas., he has also been part of SGV & Co. and Standard Chartered Bank and served as Chief Finance Officer for the SANTE group of companies.
A leader with a vision and advocacy of educating and providing more opportunities to reach out and help more people, he has also founded, BIG500 Corporation. True to his purpose of living a life that centered in becoming a blessing to more people, he has also led many projects and campaigns to serve our fellow Filipinos in need as the former President and active member of the Rotary Club of Caloocan. He is also a member of Management Association of the Philippines (MAP) and Financial Executives Institute of the Philippines.
Paul Caluag
Managing Director, Philippines
Paul is a multi-awarded direct selling professional and goal-oriented business leader with more than 20 years of experience in the network marketing and direct selling industries. He is the former Vice President of one of the largest property valuation companies in the Philippines and a former President of the Junior Chamber of Makati (Makati Jaycees).
He holds a Bachelor of Science degree in Economics and Business Administration and continues to contribute his wealth of expertise in network development and sales training, solidifying his standing as a key player in the dynamic realm of business.
Under Paul's strong leadership, Sante grew to be one of the fastest growing direct selling companies in the Philippines. He continuously inspires the distributors and the network development team to achieve their business goals. Currently, he is one of the board members of Sante International and the Managing Director of Sante Asia 1 – Philippines, Hong Kong, Macao, and Singapore. With his vast experience, he plays a significant role in leading the company as Sante explores different verticals.
Peter Hope
Managing Director,
Sante New Zealand Limited
Peter brings his extensive knowledge of organic farming to our New Zealand office. He holds a Bachelor of Agricultural Commerce degree from Lincoln University and is an authority in dairy, mixed sheep and cropping farming. Prior to taking on the Managing Director post, Peter assumed several management roles which included the General Manager position at Claridges Organic, one of New Zealand's oldest organic-focused export companies. He also has a decades' worth of experience in the Australasian minerals industry and possesses a solid track record in developing, marketing, and supporting Management Information Systems (MIS) and manufacturing systems.